downhill
My friend Mark from
Purgatory Bikes
let me borrow one of his downhill bikes for a little while.
Its called the "Harry Knuckles" and has 10inches of active rear suspension travel with a floating rear brake caliper and an isolated drivetrain. The Marzocchi Shiver front fork is, what, 8inches of travel?
My friends and I went up to
Jiminy Peak
in western Mass this past Saturday to ride. Great technical trails with lots of rocks and roots. Horrible trail maintenance. After a ride or two I figured out how I wanted the suspension dialed in (sag, compression & rebound damping, etc..) and began to feel super comfortable aboard the bike. The bike felt super stable and nimble at high speeds as I was able to throw it around some the tight singletrack they have at Jiminy. Some quotes from that day are "You've found your calling." "You should start racing DH." We will see...
I did take a good digger into a tree. Collar bone took the brunt of the impact and somehow I escaped unscathed (and I wasn't wearing any chest protection!). Did managed to crush my right foot between a tree and the bike at the same time my collar bone hit an adjacent tree. Had trouble walking that evening but everything healed up by Sunday morning.
Sunday we rode some local trails here in CT that contained some stunts. I figured out how to ride this 48.5lb bike up hills. Really only used two gears (haha. its the singlespeed nature in me) and found it more comfortable to lean forward, compress the front shock and hold it, while also pedaling. Seemed to keep the bike stable and it turned out to be a good climber.
I was following Joey into these tabletops and gaps. Used him to gauge my speed and stayed about 10ft off his wheel. Wow. I never thought I'd be going over these obstacles (I prefer riding the fallen trees to work on my balance) but it felt so natural once I had the right amount of speed and forward momentum. I still prefer just technical singletrack over 'hucking'. After all, aren't most DH courses just technical and rocky terrain with hardly any 'big drops'?
Wound up double flatting on Sunday. I hate tubes. There's a reason why I ride tubeless... I also somehow got a tad too close to a tree and shattered the front brake lever and reservoir. Old Skool Magura Gustavs are destroyed. If you have an early 2000 Magura Gustav brake lever / reservoir combo please let me know. Its the bright neon green model: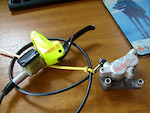 Riding this bike with just a back brake is scary. Esp since my braking is mainly 80% front and 20% rear.
This week: back to the singlespeed for some XC riding. Probably also head out on the road for an easy ride too.