long weekend of singlespeeding in New England
I had quite a few days off from work last week. Five total to be exact.
It all started with a bike ride after work. I moved our Wednesday ride to Tuesday as I had plans for Wednesday, July 4th.
I then high-tailed it across town to meet Ginger for a ride. First time out on her new singlespeed.
What is it?
Niner Air 9 scandium frame, size small.
Rock Shox Reba XX 100mm fjork
Cane Creek headset
Industry Nine wheelset with NoTubes Crest rims
Kenda Kozmik Lite II tires
XTR m975 crankset with 34T chainring and Dura-Ace bottom bracket
XTR m975 disc brakes
Surly 21T rear cog
Thomson seatpost & stem
WTB saddle
Ergon bio-kork GP1 grips
Truvativ crabon handlebars
We then went and enjoyed our July 4th.
July 5th we went out to New York to visit the fine folks at
Darkhorse Cycles
. Got the low-down on this year's DH40 course and went out for a ride.
Got to explore some new trails that may or may not be in this year's 40. You'll find out come race-day. This was probably the longest ride I've done in quite a few weeks not to mention one of the longest rides Ginger has done in the past few months (yet now with only one gear). Temps were quite high too. 90Fish and the air in Stewart is quite stagnant. We managed nonetheless and had a fun time.
Friday the 6th we were back on the road with final destination being Waterbury/Stowe Vermont. There was one stop along the way...
Pine Hill Trails
in Rutland VT.
WOW
This place was a ton of fun. Very well maintained and some amazing hand built trails. Definitely worth the stop.
From there we made our way to see George from
Bike29
up in Waterbury.
Dejay
was still up there hanging out and
T-Hom
was slated to make an appearance as well. We arrived just in time to gather the necessary ingredients for dinner and cook up some good food. Dejay was the chef bringing his southwest flair to our meal.
When we got up to Stowe we were greated by hot air ballons.
Stowe had fireworks on Friday so we walked to what was supposed to be a good vantage point from Lower Stowe Village but turned out we couldn't see anything. Dejay was catching frogs for the kids.
T-Hom's estimated time of arrival kept slipping. No matter where he was the time to arrival was 2 hours. He eventually showed up sometime around or after midnight. It wound up being a long evening...
Saturday we paid George a visit at the shop for Ginger's Reba XX didn't feel right. George pulled the fork lowers off to find that there was no oil in the fork. Supposedly this is the norm now-a-days. Most RockShox fjorks seem to be shipped lately with little to no oil in them. Don't ask me why.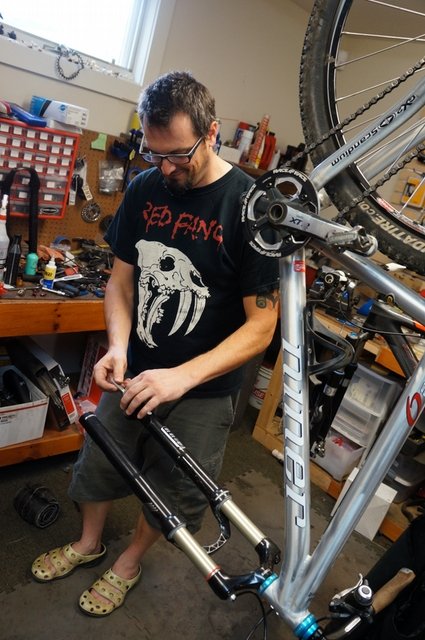 Photo: T-Hom
After some addition of proper fork oil the fork was now buttery smooth. (Thanks George!).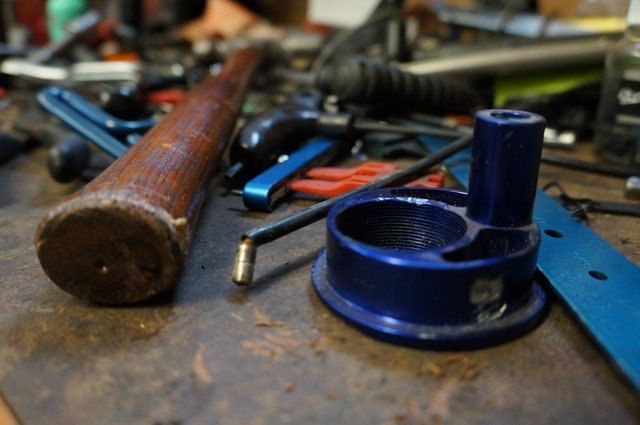 Photo: T-Hom
While we were on the topic of fjorks I pushed on T-Hom's Reba XX and it barely moved. George was kind enough to pull that apart and we found a little bit more oil in it than in Ginger's fjork but still not the proper amount.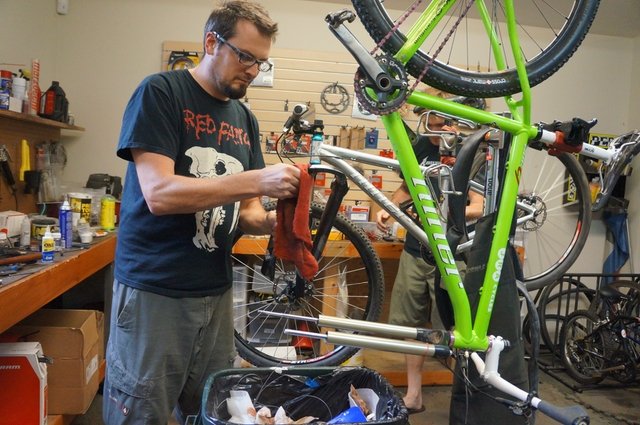 Photo: T-Hom
When T-Hom's fjork was all fixed he wasn't sure what to make of it. See.. He's been riding this fjork for months in its previous state: an overweight pseudo rigid fjork. Regardless, T-Hom was ecstatic.
So ecstatic that he did a little dance.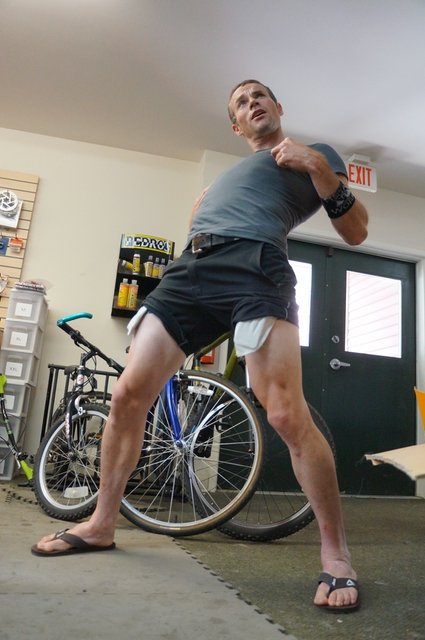 While I cleaned the chain on my bike.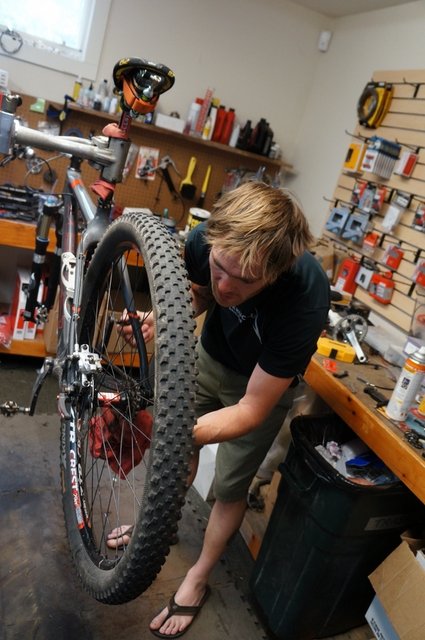 Photo: T-Hom
Later that day we converged on a bike ride. This may or may not be part of the SSUSA course.
Lets just say that not many people will make it past the
Trapp Family Lodge
.. We certainly didn't. Their beer was so good we stayed for a while and then decided to head back to dodge. Word on the street was that Dejay was
Le-Tired
.
Later that evening we re-convened on
The Reservoir
down in Waterbury for dinner and some more drinks. T-Hom opted for the 'Truck Driver'.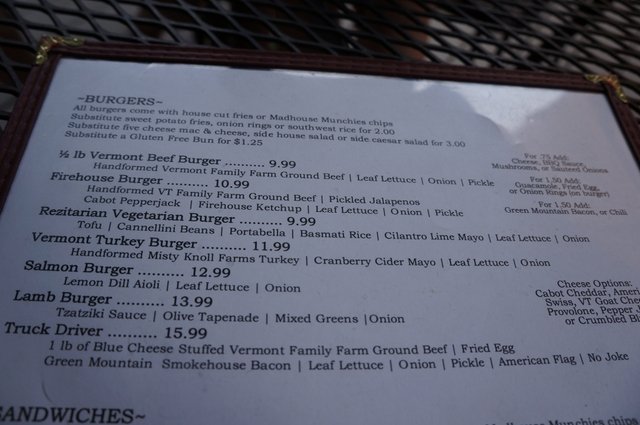 Photo: T-Hom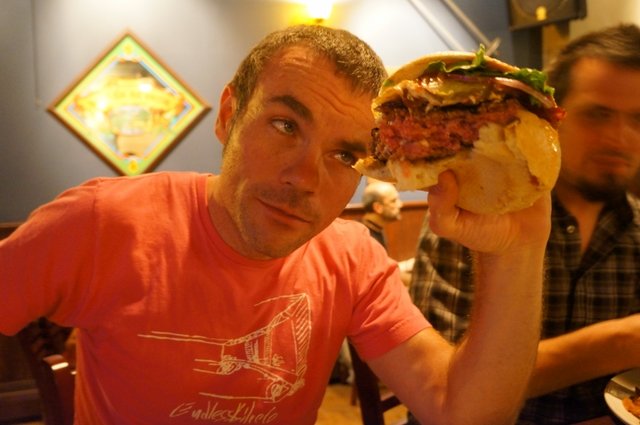 Photo: T-Hom
Somehow he finished all of that as well as his pickle and french fries. He had a
race
the next morning too. First race in months and a race against Dejay in the singlespeed field.
Who is this Dejay guy?
Why he is
The Creepy Mullet Man Dog Chorus Conductor
Sunday Dejay and T-Hom went to race in New Hampshire while Ginger and I took a leisurely drive home. I didn't want to pay 30something dollars to race my bike and would rather relax at home before another busy week at work.
Despite not racing much, T-Hom is still on his game and had fun racing with Dejay the whole race until somewhere near the end. Kind of makes me wish I was there. Watch the video.