testing and more testing
Yesterday was the first
Root66 MTB Race
of the year, HopBrook Dam. 32 miles from my house. Sounded like a good test to see how this
trailer thing
works out.
Since I do not own a USA Cycling license (and refuse to buy one) I was not racing yesterday but rather cheering on friends that were racing. I was also helping T-Hom with some
cyclingdirt
coverage.
I planned out a route that was fairly straightforward. Straightforward in that I could remember it without looking at my phone too much. I also loaded the trailer up with most of what I would take for a race. If it wasn't everything it was enough to simulate some weight back there.
View
home to hopbrook
in a larger map
The first thirty minutes heading out to Middlebury CT was somewhat of an eye opening. I dressed too warm, trailer was yo-yoing back and forth thanks to the
spring flex coupling
that connected it to the bike and I was not used to towing this much weight. Once I figured that all out (remove layers, pedal smoother, etc..) I seemed to get into a rhythm.
Thom called me when I was riding the Southington Bike Path. Shortly after that call I snapped this photo. 18 miles into the ride.
Mentally I was prepared for a pace significantly slower than if I was out on my road bike so I knew I could do this. The climbs wouldn't show up until Cheshire/Waterbury which was about two hours in. That climb (up 322 somewhere between Southington and Waterbury) I knew about and could prepare as I rode it a few weeks ago. It was the route I took through downtown Waterbury (parts of town that are pretty sketchy) that threw me a curveball. Not because of the locals but because of the really steep climbs through the neighborhoods which would take me to the backside (southeast corner) of the HopBrook Dam area. That last climb put a hurt on me as I wasn't eating much prior (typical fault of mine and I'm sure a few of you out there).
I made it though, as can be seen from the photo Thom snapped below. It was kind of fun riding in from the back of the park because racers pre-riding the course kept doing double-takes as here I was riding in on a bicycle carrying a bicycle fit to be raced on.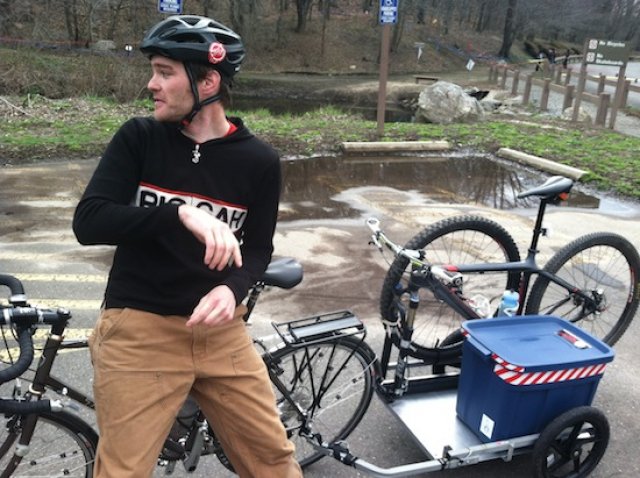 2hrs 45minutes. Average pace of 12mph. Two bottles, one cliff bar and a banana consumed. Upon arriving I ate a tuna sandwhich I packed and later ate a turkey and chicken sandwich as well as a nectarine and drank more electrolytes.
Got to see a bunch of people and have fun cheering them on (Monte, Charlie, Andy, Karl, Glenn, Stine, Wissell, Brandon, Jake, Donal, etc..). Whilst riding parts of the course I definitely felt the ride out there in my legs. Thank goodness I was riding spurts of the course and not racing.
Once the pro and CAT1 field race was over and after I chatted with a few people it was time to leave. I was getting cold and I was also racing a storm rolling in.
Charlie
gave me an alternative route back to Cheshire/Southington which shouldn't have had much climbing.
View
HopBrook to Home
in a larger map
No sooner did I cross Rt8 in Naugatuck did I start climbing. And Climb, and Climb and Climb. Must have been 30 minutes or so suffering at 3-5mph. It was here that I really started noticing the trailer. A) I was tired and B) my pedal strokes were not as smooth as earlier because of A). The pitch didn't feel as steep as the climbs heading out to HopBrook but the duration lasted exponentially longer. I also chose not to stop and take off my wool jersey and cycling cap to regulate temperature but rather keep it all on and perspire. The descent down 68 from Prospect to Cheshire was well worth the climb though.
I topped out at 35mph whilst coasting which allowed me to stretch my legs a bit. Surprisingly, the trailer was quite stable at that speed and I kept from thinking what would happen if the trailer hitch screwed up or the trailer tires blew out. Once into Cheshire I was back on roads I ride often (whenever I ride to New Haven) so I knew what to expect and knew how to pace myself. Something to be said of familiar roads, especially when fatigue has set in.
Other news helping me along was a tail wind I noticed whilst riding north through Southington and Plainville. Much welcomed at this point in the ride. It
almost
(
almost
) felt effortless to spin at 13-14mph.
I ate another banana and drank more electrolytes as I headed into Southington back onto the bike path. I was also greeted by a few specks of drizzle but was not phased by it until almost near the end of the bike path. It was there that I realized I probably should stop and throw my rain coat on to keep my wool jersey and undershirt from getting anymore soaked and me catching a cold. I packed a raincoat but couldn't find my rain pants the evening before so I mustered on with my damp Carharts.
(yes, Charlie, the pictures are not completely in order but they tell the story)
Into Plainville and now I was just outside of 10 miles from home and my pants feeling quite heavy. I had a set of cycling knickers with me and decided to throw them on as they are somewhat waterproof and lighter. My knee high socks helped keep my legs warm and the pedaling was MUCH easier now that I could move freely. Silly stubborn me. The rain seemed a steady light rain and I wasn't phased much by it as the Trek's fenders were keeping me dry and my rubbermaid container top was staying on (without bungees) and contents staying perfectly dry.
Into Farmington and I just had one climb left for the day, an easy climb relative to what I've done all day. I was also quite tired at this point as the photo suggests.
Nice and steady up the climb focusing on round and even pedal strokes and not thinking about the top. Once at the top there was a huge sigh of relief as I knew the road home was easy. Knowing this I had a resurgence of energy (and another clif bar) to get me home.
5:30pm I am home. 2hrs 30mins since I left Middlebury. Computer said another average pace over 10mph which was most likely thanks to my tail wind. Total distance for the day (commuting) was 66.66 miles. I stayed reasonably dry in the rain but if I had another hours worth of riding I would have been toast as my feet were beginning to get quite wet by the time I arrived at home.
I ate some food, took a shower and crashed... Hard. Waking up this morning was tough.
Many lessons learned yesterday. Many thoughts running through my head and many suggestions/options thrown my way via all my friends I chatted with at the races. I certainly would not have been able to race my bike today. I didn't quite feel like I race 100miles on my mountain bike yesterday but I certainly felt quite shelled when I woke up this morning. 66.66miles isn't quite near the distance I'd need to pedal to Wrentham Mass or Stewart Forest NY so I have some thinking and more testing to do.
A few things weighing on my mind about yesterday are:
~ How do I cut some excess fat (ie: weight) from what I am towing? Only thing I see right now is the trailer itself and all of its steel.
~ The spring mechanism / trailer interface with the bike doesn't help the impact seen on my body whilst riding. Need to get rid of this.
~ Got a lot to do with bettering my nutrition. A cookbook was donated to myself last week (thanks
Greg
) and plan on using it a lot. I'll talk more about that soon.
~ Definitely still early in the 'season' so I shouldn't quite expect to be super fresh today but if I am to at least maintain some sort of a pace in a race I've ridden to I need to be fresher than I was when I woke up this morning.
~ Lay out routes with less climbing or climbs of a shallower grade..
The more I think about yesterday the more I realize this endeavor is
really
difficult as the distances I am looking to cover are quite long. I thought about breaking them up into shorter distances per day (50miles?) but think about how I felt this morning after covering almost 70miles. Not sure if that will help but I think this is a thought I need to dig deeper on (re: my stage racing experience).
I also think about the reactions people have and the conversations I have with people about this and that further fuels me from not throwing the flag up and abandoning this effort.
Opinions/Thoughts are always welcome. I am going to sleep on this and see what I come up with in a few days. Thanks!