2010 TSE - Day Two
Day two would ultimately turn out to be one of the best days I have had
racing
a bicycle. It was also one of the most difficult days of the Trans-Sylvania Epic.
Today we had a remote start and rode back towards camp. 40miles, mostly singletrack with the end being gravel and paved road. Race start was around 10:30am (kind of late relative to what I am used to for stage races but we ultimately got used to it).
Profile from TSE website
Let me see if I can remember the terrain:
The start would take us down some gravel roads and hang a right into a rocky singletrack climb. We would crest that descent a loose and rocky descent out onto a grassy jeep trail. I remembered the grassy jeep trail from the W101. That jeep trail was undulating and ended up where aid station 3 is within the W101 (mile 60 of that race I think). Rather than heading up a singletrack climb like we did in the W101 we went up a gravel climb. Somewhere in here was the first aid station. After the aid station was more singletrack that eventually turned upward to Slate Ridge (I think). Rocky Singletrack along the ridge and down the backside. Rip through some singletrack within the valley and onto aid station two. Some more singletrack and out onto a gravel road. This gravel road took is all the way over to rt322. Through a tunnel (we ride this in the W101) and up the access road alongside rt322. This is the last climb of the day. Left onto the access road to the scout camp and a 1/4 mile or so into camp for the finish.
Shuttle service was provided via a school bus. Ray and Mike fabricated some nifty trailers to carry our bicycles. Due to a VIP being with us; Peter, Dicky and myself received a private shuttle to the remote start by Mike Kuhn's wife.
"The Body" was ready and enjoying the private shuttle. As an Ex-Governor comes to expect.
We arrived to find all the bicycles neatly organized at the start.
Found our bikes and rode around a bit to 'warm up'. Not much of a warm up seeing as it was already quite hot and humid. More like pedal around lightly and sweat.
Once Garth signed in for the day (he was the last one to sign in) we had a little meeting and then the race started.
Race Start with WTB guys leading the pack out.
Right past a cool barn where Abe snapped such an awesome shot.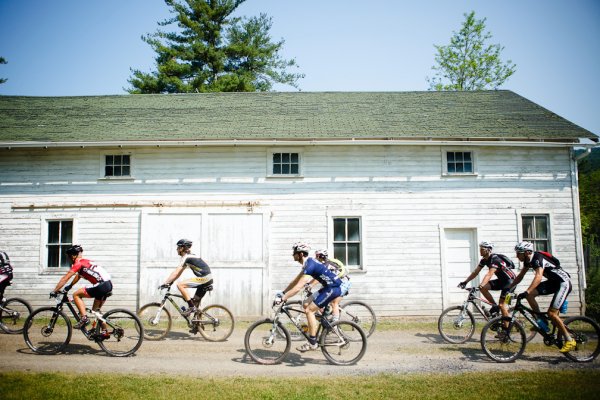 The singletrack climb sucked. I don't do well with huge efforts at the beginning of races. I was climbing horribly and my lower back became enflamed (as it does when my posture is horrible). Breathing heavy and sweat pouring out of everywhere. Greg and 'The Body' pulled away from me like I was standing still. Somehow I made it to the top and began the descent. Either I was exhausted from the climb or my head was not on straight but I could not ride fast down that descent. I kept slamming on the brakes and scrubbing speed. Thoughts ran through my head:
"If this is how you are going to ride big mountain PA then you are going to suck."

Somehow made it to the bottom and made the left onto the next trail. Tried to recover but the trail had some up to it. Eventually got onto the gravel road climb. I found a rhythm on the gravel road climb and was able to recover and pick my pace up. I remember the singletrack at the top and down the backside of this climb to be super fun. I forgot about my fears on the previous descent and stayed away from the brakes for quite a bit of it. Throwing the bike into turns and over rocks and fallen trees. So much fun. This fun energized me to keep on going.
Drink and eat some Perpetuem. With heat like this I try to down a bit more than one bottle per hour and a flask of concentrated Perpetuem every two hours. I estimated this race to be four hours so I would need to stop and refill my bottles at an aid station. Had a third bottle in my jersey pocket of just water. I'd drink some of that too.
Rolled into the first aid station (mile 12?) as 'The Body' was leaving (I think). Refilled my bottles with Heed and water and was off. Back into the singletrack in search of 'The Body'. I caught up to him on the singletrack climb. It was very hot and there was little air circulation (ie: no wind). We slogged on and at some point 'The Body' let me take the lead. We'd falter here and there but kept pushing onward. Partway up the climb we caught Greg. He was moving extremely slow. He mumbled something about the heat affecting him and his legs just not having anything in them. I think seeing us gave Greg some energy for he kept on with us. Now the three of us are riding together, kind of.
We crest the top and start along the ridge. Greg pulled away from me a tad while I slowly pulled away from 'The Body'. I'd catch back up to Greg and we'd ride some and switch back and forth a bit. Lots of out-of-the-saddle riding to maintain momentum and get through all these rocks. Still pulling away from 'The Body'. At some point Greg lost a tool or something from his toolkit but quickly was back on the bike within sight and sound of me.
"Keep pedaling. Ride consistent. Don't do anything stupid. Don't worry about 1st 2nd or 3rd"

I kept running that through my head. I remember a short 20-30ft incline that I muscled up. Upon cresting the top of that I realized I probably shouldn't have ridden it for my legs hurt a lot. [Greg later told me he couldn't believe I rode that.] There was another incline of this type not that far down the trail and I opted to walk that one. Once I got to the top I turned around for the first time in a while. I was all alone.
"Where did Greg go? I thought he was on my wheel?"
Guess I pulled away from him. Grabbed some Heed from my bottle and back on the bike pedaling down the trail. I typically don't really hold a 1st place position in a race. Especially in a 4ish hour race and multi-day race. This was new territory for me. I kept thinking back to my previous thoughts and forced myself to just ride my bike and not worry about who was who in the race (except making sure I was ahead of 'The Body'). If I am meant to take the stage win then it will happen. I kept on riding and focused on staying consistent and eating drinking to ward off any cramps due to the severe heat and humidity. So far I haven't had any cramps and my legs felt good. No signs of fatigue just yet..
I rolled into aid station two and refilled both my bottles. I left the bottle in my jersey pocket empty as I felt pretty good and didn't feel like I needed three bottles to get to the finish.
Back onto some singletrack and eventually out onto a road. Still no signs of anyone behind me and no signs of anyone ahead of me. I'm in 'no man's land'. I typically have a hard time maintaining a consistent pace riding solo on paved or gravel roads but I did my best to keep the cadence up and keep moving. I'd occasionally look over my shoulder and still didn't see anyone.
"Am I riding that much faster than everyone? This is weird. Something is wrong."
Pedal, Pedal, Pedal. As the road dipped downward I'd pick a tree and pedal as hard as I could to get to it (often resulting in super high cadences). Then aero tuck and coast. Back again pedaling like a madman. Aero tuck and coast. This kept on going and I eventually got to the tunnel underneath Rt322. Seeing Rt322 made me happy. Especially since I was out of Heed and water.
"I'm almost to the finish. Sweet!"
On the other side of the tunnel were some people and they were handing out cans of PBR. At the last second I decided to grab a can and start my way up the last climb.
About 100ft into the climb and half the PBR in me my legs started cramping. NO. Not now. I'm so close. I backed off intensity and did my best damage control to keep moving. Unfortunately the damage control consisted of not finishing the PBR.
wish it was me but I can't tell who it is..
Now I am around the first yellow gate. More pedaling. I tried standing up but that hurt more so I stayed seated and ground it out. Around the second yellow gate and over a rock. Wow. That could have spelled disaster [cramp] if I give too much effort but somehow it worked fine.
Last leg of the climb and the damage control was working. I was now pedaling at a consistent pace. A glance over the shoulder and saw two people but couldn't make out who it was.
"Pedal faster despite it potentially hurting you in the long run. You are so close to winning a stage and can see the top of the climb. Just make it to the top and you have a large enough lead to coast into camp and take the win."
Made it to the top and immediately got into an aero tuck. High speed left turn onto the access road to the scout camp. Narrowly missed two cars. More aero tuck and stretched those hamstrings while I was at it. Rolled into camp and my legs felt much better so I spun my ass off around the lake and across the finish line.
Victory! Stage win!
4hours 0minutes 46sec
I can't believe I pulled that one off. And was 12minutes faster than Selene Yager, the fastest woman for the day. I am typically hanging with the top women riders or slightly behind them.
Greg rolled across the finish line a little over two minutes behind me to take 2nd. 'The Body' almost three minutes behind me for 3rd.
Peter finishing stage 2 after finding his '
dark place
' and coming out of it.
'The Body' wasn't happy to be in 3rd place.
Aghh. This is a much better podium pic.
Later that evening Tim, from CyclingDirt interviewed a few of us.